New culinary art in pink to put whole local communities 'in the pink'
We, Brilliant Associates, are a producer of "tourism and culinary art" in Tottori, Japan, and our ambition is to promote made-in-Tottori brands which "materialize our ambition and ideas." Also, we are planning to develop some new services and products to help the local communities of Tottori boost their economy. For instance, we intend to develop some new products targeted at women, taking advantage of comics, for which the prefecture is renowned. Also, we hope to promote new Tottori brands with the concept, "Tottori – where you can be a lady."
Now, "food that goes well with a lady living in a nice Western-style mansion" was the idea when we developed our foods in pink --- Pink curry, Hanakifujin (pink soy sauce), Pink mayo, etc. Their vivid pink color comes from the beets grown in Tottori.
Bright pink gives us a sense of happiness and joy. We sincerely hope our pink foods will do the same for you.

Here it is! Pink curry with its romantic color ---
Tottori is one of the prefectures in Japan with the greatest curry roux consumption. There is a Japanesque café named "Oenoki-an" situated close to "Jinpu-kaku," which is an "Important Cultural Property". At the café, we were served one-of-a-kind curry in pink, taken from Tottori's beets, hoping to attract more tourists to the prefecture. This curry caught on, and many visitors wanted to take it home as a souvenir for their friends. So, we developed this product, "Pink curry." Though it has a lovely pink color, it tastes authentic – spicy and good. Experience this gap between look and taste for yourself! (Available in 200g [7 ounce] retort packs, \980 each)
At "Oenoki-an," you can clad yourself in one of the four sisters, our brand characters, and act like a lady, if you want to.

* Won the "Excellence Award" in the "Growth Division," Female Entrepreneur Awards, from "Joseikai Rengokai (Federation of Women's Divisions)" of the Chambers of Commerce in Japan.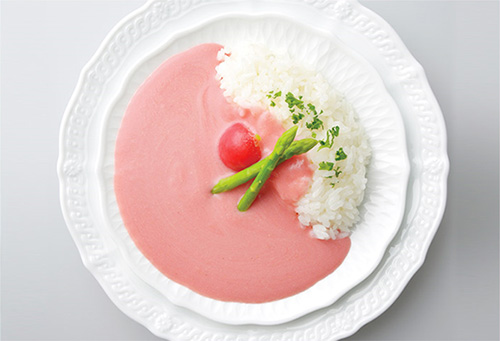 To brighten up your usual table
Many women feel better with makeup. Good food deserves some good makeup as well. So, we developed this pink sauce. Every family in Japan uses soy sauce, and we wanted to make it more lovely and fashionable, while maintaining its rich flavor and taste, with quality broth. The pink sauce brings a "flourish" to many Japanese foods – slices of raw fish, chilled tofu, boiled rice with egg, and many more.
The sauce's bright pink brightens up your usual dinner table. Its pink, needless to say, comes from beets grown in Tottori. We also widened the variety of containers. (\1,000 or more for a 50ml [1.6 ounce] container)

* Won the "Women's Challenge Award" from Japan's Gender Equality Bureau of Japan's Cabinet Office
* Won the "Konnano Arunda (Great Find)" Grand Prix 2015, a competition of some 35,000 products chosen from all over Japan and carried by the "47Club." In this competition, local newspapers from around the nation choose the award winners.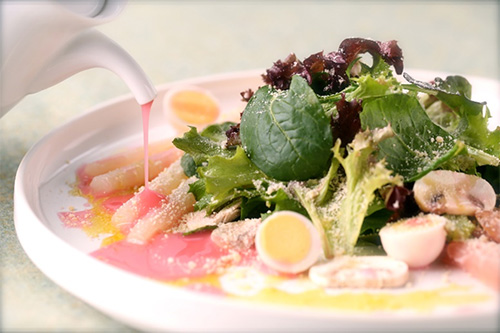 Pink mayonnaise
Mayonnaise's romance in pink
Pink mayo, lovely and tasty. It taste has a refreshing hint of sourness, as preferred by many Japanese.
Pour it over a salad of fresh green vegetables, and the mayo's pink accentuates the salad beautifully to brighten up your whole table. The original idea for this pink mayo came while were developing our pink soy sauce. There were some people who wanted a "lovely dressing to accompany broccoli." The mayo comes in a package that also contains the "secret item" of the Hanakifujin series - ketchup. Numerous customers highly praised the beet ketchup, saying "This goes excellently with meat!" The package contains a small, use-up-once pack of ketchup, nice as part of a packed lunch. When your kid has a school outing or exam, a packed lunch containing the ketchup pack can add a little fun to the school lunch hour. Our pink, of course, comes from Tottori's beets.
(A package contains 2 packs [0.53 ounce] of Pink mayo and a pack of beet-paste ketchup. \500 a package)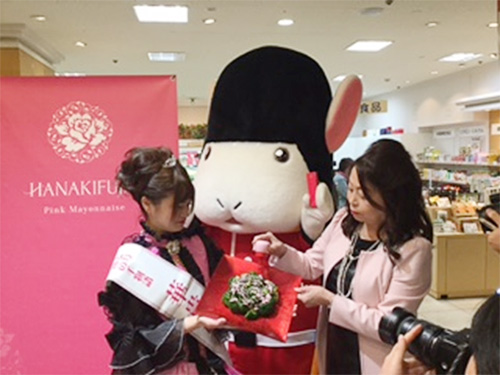 Our pink comes from beets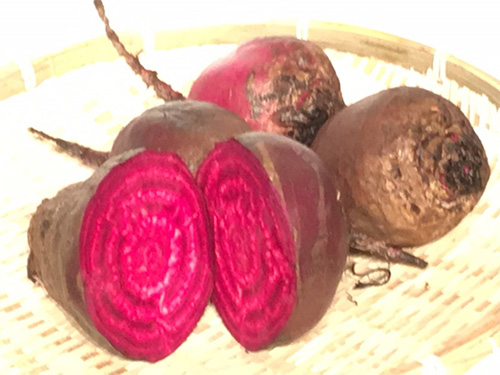 Our products' vivid pink comes from beets harvested in Tottori.
Beets are a highly nutritious vegetable, of the same chenopodiaceae family as spinach. First, we studied many things about beets, flew to Hokkaido to see the Prefectural Government, and found out that Japan had no major producer of the vegetable. Happy that beets could be a new Tottori signature product, we started sowing beet seeds. In Japanese, beets are called "kaen sai (flame vegetable)," since a beet turns bright red in the root and leaves. In the West, beets are quite a common vegetable often used in soup, salads, the famous Russian soup borsch, and other dishes.

Beets contain a wealth of potassium, iron, phosphorus, magnesium, sodium, calcium, and other nutrients. They are often known as "natural blood transfusion through the mouth."
They are also rich in vitamins A, C, and E, as well as vitamin Bs, known to be necessary for skin health, and dietary fiber. The vegetable also contains a good quantity of nitrogen monoxide (NO), which is believed to enhance blood circulation. Thus, many people, especially those beauty-conscious women, are turning their eyes to beets.